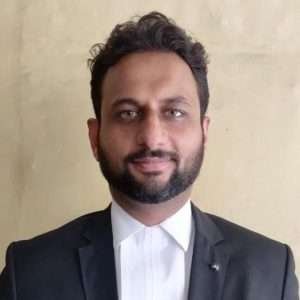 Dr. Samhotra is a dental graduate, and he continued the dental practice for a few years after graduation. He also worked in the Pharmacovigilance Industry, studied LLB from Panjab University, and did a Diploma in Forensic Science from Punjabi University. But Public Interest Litigation inspired him to start legal practice to learn the nuances of it.
Dr. Rohit Samohtra believes in serving society and the course of Justice to the best of his professional abilities. He is a man driven by the passion & learning to strive for excellence, his fascination with the Constitutional Law acts as a foundational pillar of his legal acumen. With the understanding of the Constitution, CPC, IEA & CrPC, Dr. Samhotra zealously accepts cases of diverse range instead of specializing in a specific discipline. His experience in the areas like Constitutional, Civil, Criminal, Corporate, Arbitration, Intellectual Property, Medico-Legal, International, Matrimonial, Taxation Laws compliments his ability to learn as a lawyer. In his opinion, Law — in all of its forms, expressions and applications is a life force that connects society & civility, liberties & its limitation, fiction & reality, economics & the larger good — and translates philosophy into fair, just, and reasonable outcomes. His ability to connect criminal law with constitutional laws and its larger principles helps him in becoming one of the best criminal lawyers in the NCR region.
Dr. Samhotra has been a prestigious member at Toastmasters International, Chandigarh, since 2015. He has contributed his services as a former Sargent at Arms & VP, Public Relations, and Secretary at Toastmasters International, Chandigarh. Apart from reading and appearing before different Courts, he learns through courses, Conferences and lectures. He recently attended a few International courses: Justice by Harvard University, the Psychology of Criminal Justice by the University of Queensland, Introduction to the Patent Cooperation Treaty by World Intellectual Property Organization — WIPO & General Course on Intellectual Property by WIPO. He completed a Post-Graduate Diploma in Environmental Law and Policy from National Law University, Delhi in May 2021.
Dr. Rohit Samhotra is a registered member of the Supreme Court Bar Association and Punjab & Haryana High Court Bar Association. He frequently interconnects — Law — to other disciplines like sociology & economics to fetch desired results. He constantly monitors the evolution of Jurisprudence in India and the rest of the World and never shies away from adopting revolutionary methods for course correction. Dr. Samhotra endeavors to bridge the gap between — Law — and other fields like; Algorithms & data structure, Space & Aviation, Science — a discipline that subsumes subjects like biology, chemistry & other systematic studies based on observations & experiments — Cyber security. His unique approach of interconnecting the disciplines of law makes him one of the best lawyer in the NCR region.
A recent publication of Dr. Samhotra titled 'Origin of the Constitution of India' got published in a book on Constitutional Law bearing ISBN No. 978-81-941524-3-9 that has a foreword by the former Chief Justice of India, Dipak Misra. His constant efforts to strive for excellence make The Law Codes a proud organization.